I have an amazing mother. Her name is Marigold Joy. She is hard to describe. Her eclectic nature does not fit into any subculture genre. She is many things and 'tuned in' is one of them. When I think to myself, "I should really ask my mom about that." The phone rings and there she is saying, "I called because I felt you needed to talk to me."
She always seems to know when I'm feeling something strongly…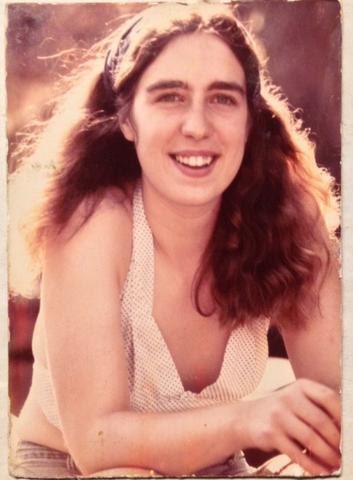 Photo: My mother, Marigold
When she was pregnant with me she bought a book for me. She said that I told her I would need it. She inscribed it to me, her dear 'Corrie Evelyn' (she thought I was a girl) They were in for a surprise when I was born a boy in the farmhouse at my family's old homestead in Southern VA. My middle name became Corry, but they picked Jemeson for the first name. It's funny though because I have never been called Jemeson, except for at the DMV. Folks have always called me Jem.
My mother was wrong about me being a girl but she was right that I would need a book titled "The Amateur Wind Instrument Maker". When I was one we left the family farm and headed west to Northern California. My parents settled in the hills outside of Willits.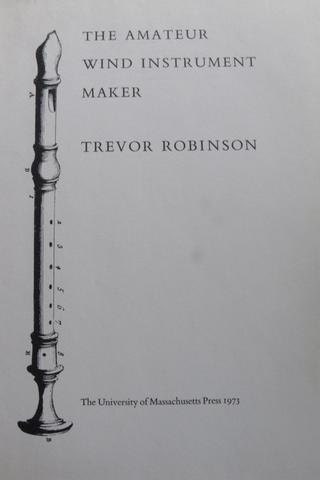 I had a free and wild childhood. We lived in a school bus with two VW buses welded on top (kind of like a double decker). We didn't have electricity or running water, just acres and acres of romping ground. I was unschooled and my parents were always telling me to do what I love. I loved nature, gardening and making instruments so that's what I studied. When I was eleven I started making flutes out of clay and reeds and elder stalks.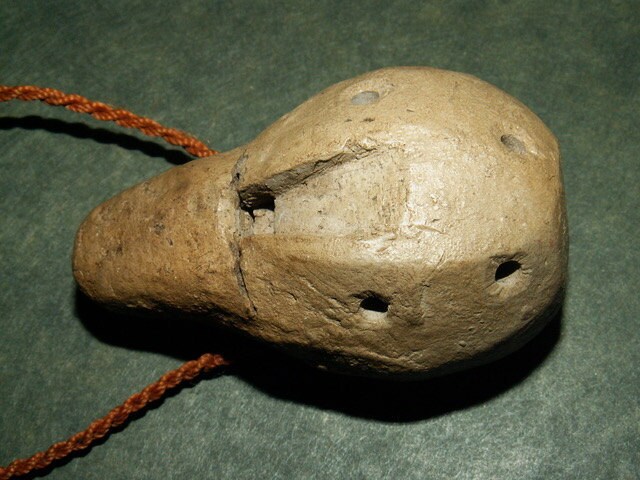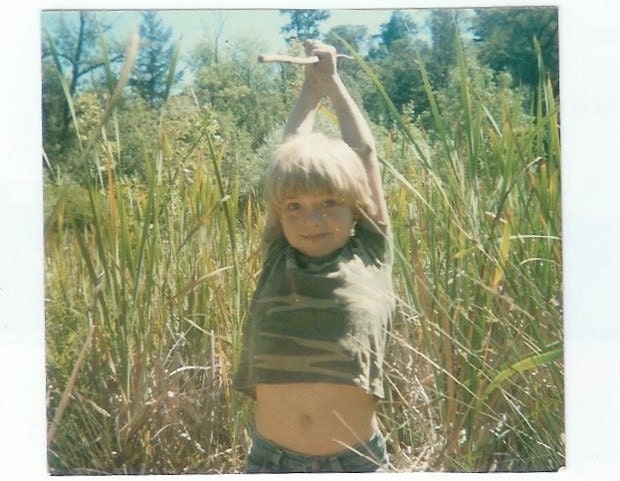 Photos above: My first clay ocarina, and me as a young child gathering reeds.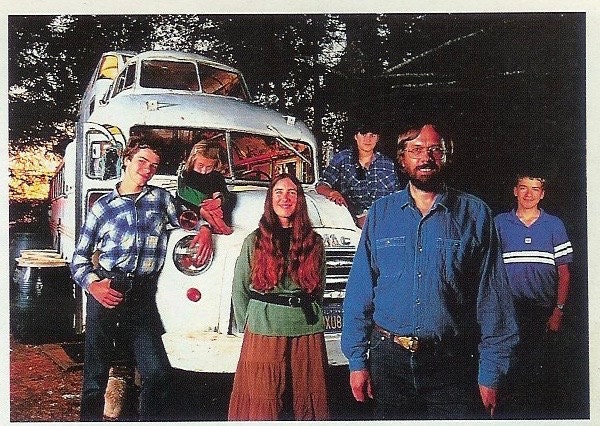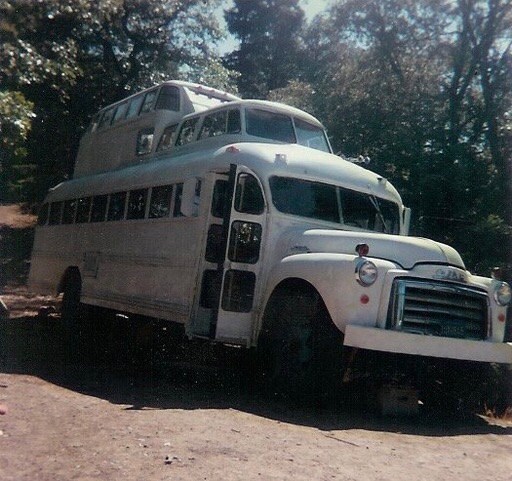 Photos above: My family (I'm on the right) and "The Bus"
Soon after, I started making flutes from pieces of black plastic irrigation tubing as well. I made a really good sounding one and decided to show it to a professional flute maker who lived on our road. His name was Monty Levenson. Monty is a well known, self taught, master shakuhachi maker. I didn't know it at the time but I guess it had made an impression on him; a few years later he called me and asked if I wanted to help him out in his shop. I started apprenticing with Monty shortly after I turned 15, in the spring of 1995. Monty showed me so much, not only about flute making but about life; one's character and integrity, construction, alternative energy, and homesteading. He also introduced me to excellent Japanese hand tools. Nearly ever penny I earned went toward buying my own flute making & wood working tools.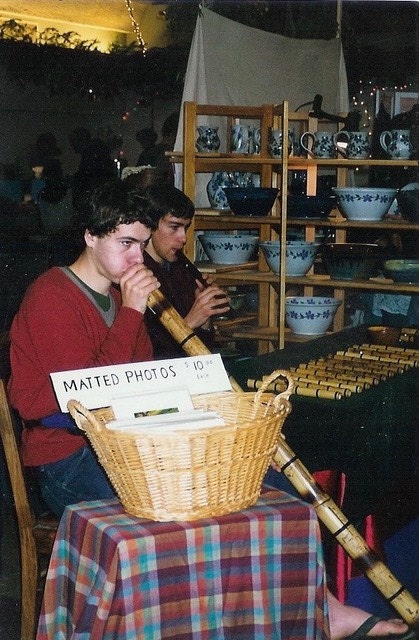 Photo: Selling bamboo quena flutes & didgeridoos at a local crafts fair with my brother, as a teenager. I would buy bamboo from the local garden supply store.
My brother, Jon, (in foreground) is a nature photographer: http://jonkleinphoto.com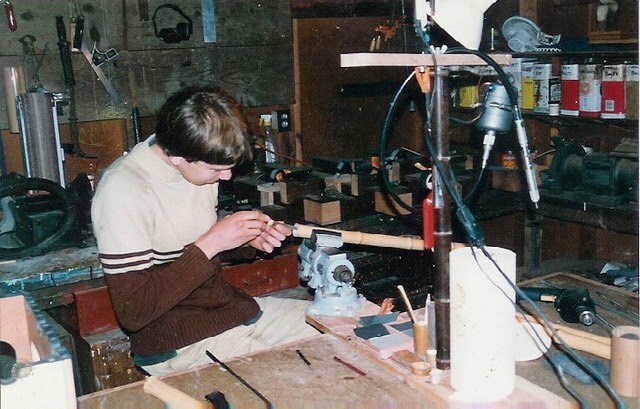 Photo: Me at age 16 working in Monty's shakuhachi shop
I am so grateful Monty was my teacher. I worked for him until 2002, when I took a break and ended up chasing my wife to be, Meredith, around the world. She was studying midwifery in New Zealand and I couldn't bear to not be with her. When the girl of your dreams comes into your life, you just have to not let her get away.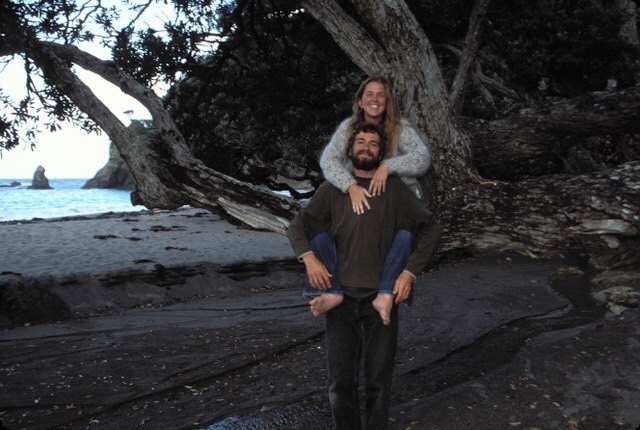 Photo: Meredith & I on the beach in New Zealand
Meredith & I returned to the states. We moved East to the land of fireflies and hardwood forests. We eloped in the little town of Floyd, VA. We joke that we were like salmon and had to travel back to VA to have our first son, Oak, in 2006.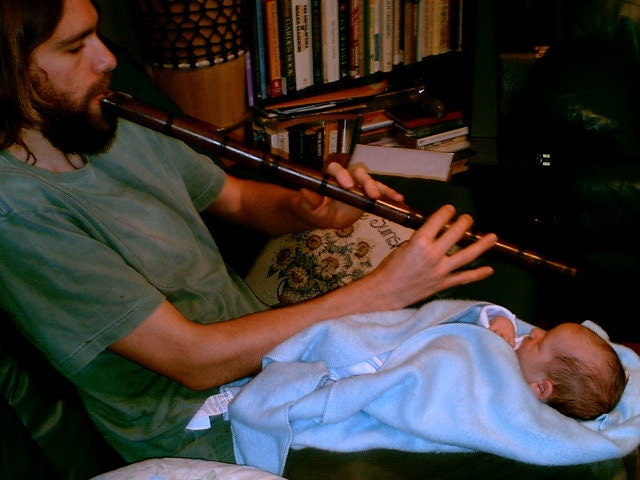 Photo above: Playing the shakuhachi for my day old son. I played for him daily when he was in the womb. I used to put the end of the flute near Meredith's belly.
It wasn't long after Oak's birth that Monty called with an offer for me to make flutes for him again. I crafted flutes in my workshop outside of Floyd, VA and shipped them to him out in CA. I also started my own shakuhachi business in 2006 (HoSetsu Shakuhachi). I sold flutes online and on ebay. I remember selling my first 'official' shakuhachi with my hanko stamp on it to a friend of Monty's, who lived in FL and had a large shakuhachi collection. I'm sure Monty encouraged him to buy it, maybe asking him to help out a young shakuhachi maker.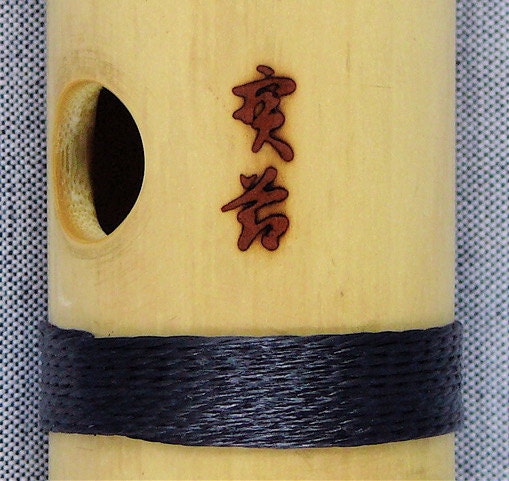 Photo: My HoSetsu hanko. Showing the lineage of my teacher.
When I think back to that time in 2006, I was so young, so shy, and didn't know a darn thing about running a business. I was raised in the woods, had little social skills, and was not business savvy. I just wanted to make beautiful flutes, live a simple happy life, walk in nature, grow food and not miss a moment of my son's life. I got to be there for his first solid food, for his first steps and first words. I felt like the richest man in the world. Financially, we somehow survived. I used to sell flutes to Monty at wholesale prices and he would put his stamp on them and resell them on his website. Monty had become known world wide from his ad in the 'Whole Earth Catalog' way back when and the quality of his craftsmanship was nearly unbeatable. He had made himself known, was on the internet before most and had a large audience wanting his flutes. I was grateful to be making flutes and making some money for my family. Back then my meditation flutes were tuned to themselves. I sold them as Bass, Alto & Standard shakuhachi. I now tune my shakuhachi to key and my cast interior flutes to concert grade pitch in a controlled temperature setting to ensure that they are always tuned consistently.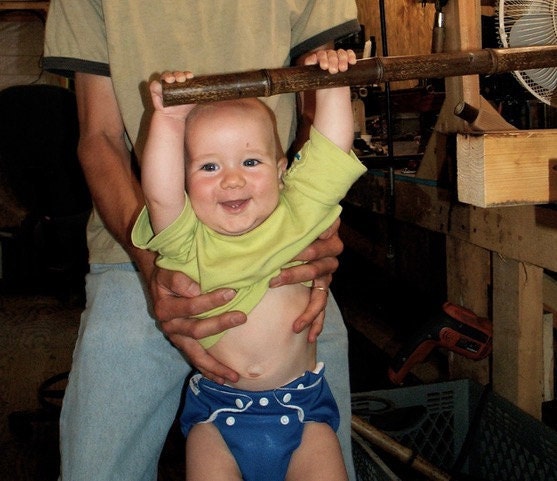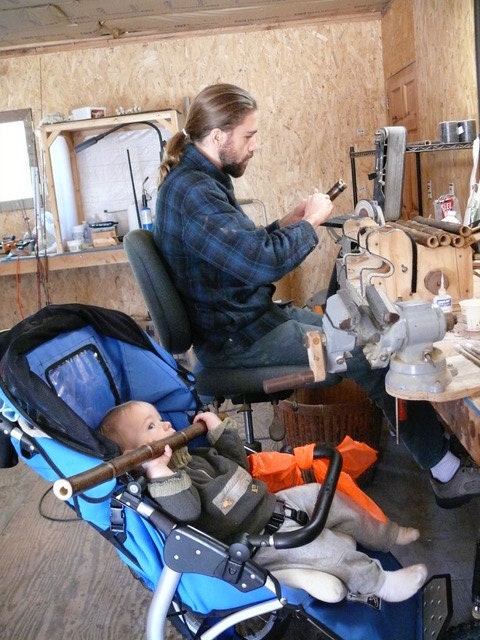 Photos: My son Oak helping me in the workshop in 2007. 
We eventually moved back to CA, after Meredith got very ill with Lyme Disease. It was bad, she could hardly walk. We needed family support and I needed regular reliable income to help afford treatment for her. Monty kindly offered up his guest cabin to us. We were so grateful to have a place to land while our VA homestead was up for sale. I could work in his workshop and drop down to check on Meredith throughout the day. It seemed ideal at the time.
A dear friend of mine, Cristo Leon, recently asked me how many shakuhachi flutes I have made in my life: with Monty and on my own. I had never really thought about flutes in a number before. It has somehow just been part of my nature, something I must do, but his question made me and my wife very curious.
There is no way for me to count the hundreds, if not thousands, of flutes that I worked on in Monty's shop from 1995-2002 but I do have records from 2006 on. From 2006 until this 24th day in July 2017, I have sold 510 shakuhachi flutes. I have donated 5 more to hospices and Buddhist Lamas & Rinpoches (515). I also made 562 shakuhachi flutes (not including shakalutes) for Monty from 2006-2012. It is wild to think that that many flutes have been crafted by my hands. There are so many others that I have put the inlay on, done the bindings, or have repaired or tuned. It would be so fun to be in a room with ALL those flutes.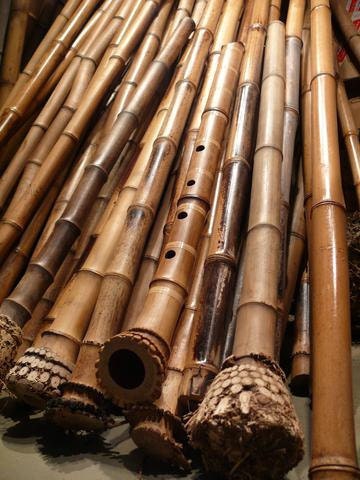 I left Monty's shop for good in 2012 after my second son, Eben, was born. We were so homesick for the green ferny summers of the East. We wanted a flush toilet and modern plumbing. We longed for reliable water and electricity which we didn't have in the cabin. We also wanted to get away from the insane amount of tick bites we were getting in Mendocino County. Meredith feared that our new baby would get Lyme disease from a tick bite. Her folks had an empty rental home in AZ and encouraged us to overwinter there. We had our hearts set on returning to the mountains outside of Asheville, NC but having a sweet family nearby and modern conveniences with a new baby sounded so awesome.
It was funny to be leaving California again, especially with a newborn. I spent most of my life on that road and knew every tree and nook & cranny. I had no idea how I'd be making money without Monty's regular orders. I wanted to do more woodworking and make root end flutes of my own. I felt ready to move forward in my craft, in my name. I wanted to live where I could harvest bamboo and not rely on buying imported bamboo from China or Japan.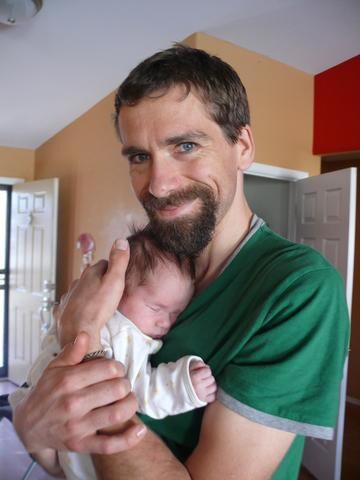 Photo: Baby Eben makes it safely to AZ when he was 2 weeks old! 
Folks, if you don't have to move with a newborn DON'T! It's not easy!
In AZ, my many boxes of bamboo cracked like crazy. I don't know if you've heard bamboo pop before but it sounds a bit like gunshot going off (especially to a flute maker's ears). I lost over 1/3 of my bamboo that "winter" (when it was in the 70s & 80s everyday) The dry climate did me in. I would go to the garage every morning and count my losses. I moved all the bamboo inside and wrapped it in blankets to try to control the climate but still more cracked. It was nice not to have to bundle the baby like you do in cold weather and but Meredith and I knew we had to get back to where bamboo grew. So to the Southeast it was! We packed up our family caravan of tools and dreams in March of 2013 and headed to the Black Mountains of Western North Carolina.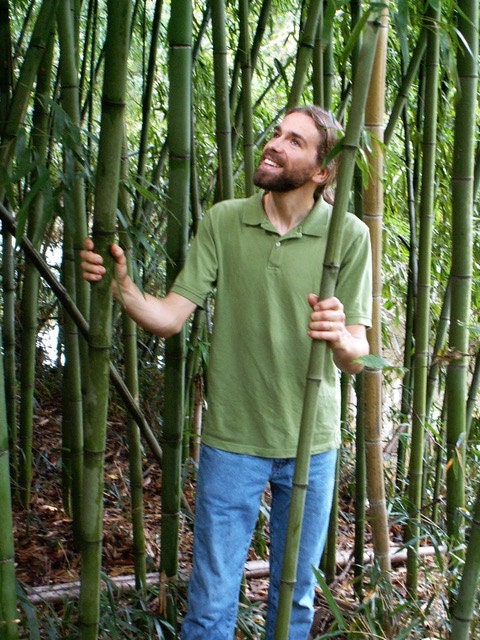 Photo: Me in the bamboo groves of Western NC
Once we settled in a rental home outside of the town of Black Mountain, I was immediately on the bamboo hunt. I knew it would need years to cure and was excited to gather all I could while the weather was still icy. That spring, I learned that Jon Kypros, another shakuhachi maker in the states, was living outside of Asheville. It's kind of rare to meet another shakuhachi maker and I was excited to meet him. We hit it off right away. I remember him taking me into his barn where he had so many cured root end pieces; beautiful Makino & Madake bamboo. My jaw must have been on the floor. He was shocked to learn that in the past, I hadn't had access to root end bamboo for crafting on my own. Jon so kindly handed me cured root end pieces and said, "You have a gift man, go for it." I will never forget his kindness. That first root end flute was such an accomplishment for me. I had made hundreds for Monty but to have one with my hanko on it felt so wonderful. To this day, if you buy one of my student model flutes I provide a free copy of Jon's beginner shakuhachi book, Your Shakuhachi Journey, with the flute. Instructions on how to get a free introductory shakuhachi lesson with Jon, in person or via Skype are in the book.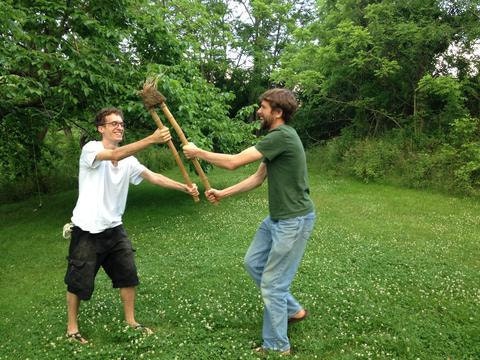 Photo: My dear friend Jon Kypros & I fighting over the "Wishbone" bamboo.
This photo was taken on the day he so kindly gifted me cured root end bamboo.
Jon's website is: http://flutedojo.com
My wife & I eventually left the rental in Black Mountain. We bought a little log cabin an hour's drive northeast of Asheville. We live near the beautiful South Toe River in a community rich in artists. There is so much wild bamboo all around me! We have a large garden, fruit trees, berries, bushes and chickens. We try to raise most of our food organically. I currently sell my woodwork & flutes on Etsy (www.jemklein.etsy.com) and in numerous galleries. I have just launched a new website www.jemklein.com where my flutes are also available.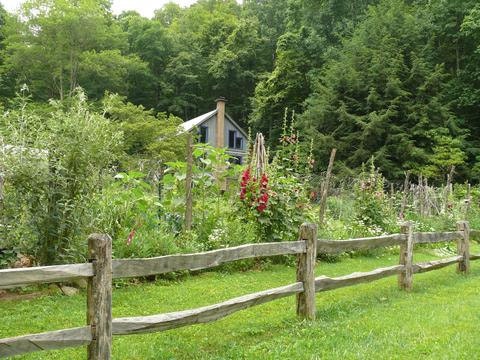 Photo: My home & workshop near Celo, NC
And I have typed for too long…..Back to the flute bench I go….
Stay tuned for another update soon. I want to tell you about bamboo harvesting.